Getting to Haines
Haines is located on the shores of the northern Lynn Canal, the deepest, longest fjord in North America. Surrounded by snow-capped mountains and hanging glaciers, Haines is truly in the most scenic setting one could imagine for any destination in Alaska. Just north of Juneau and a little south of Skagway, Haines is only 45 miles from the US/Canadian border and is accessible by road, air, and water. Once in Haines, there are several Car Rentals and Taxi Services.
Information in this section will assist you in planning your trip to and from Haines as well as during your stay. If you have any questions, please contact us.  Would you like a road map of Alaska? Go to Alaska.org to order one for free (just pay $1.99 shipping)!
Maps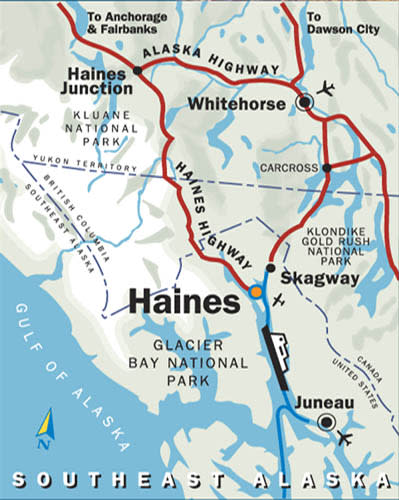 Cruising is a very popular way to visit Haines. Check out the many brands and sizes of ships that call to Haines and the neighboring community of Skagway.
Read More